Must-Sees - India and Sri Lanka
Although Sri Lanka is often considered to be neighbouring India's "teardrop", it is an Indian Ocean gem promising much tranquillity. As for its neighbour, India is best explored through authentic and exotic experiences. Taking in India from the west to the east coast is always a delight.
Read more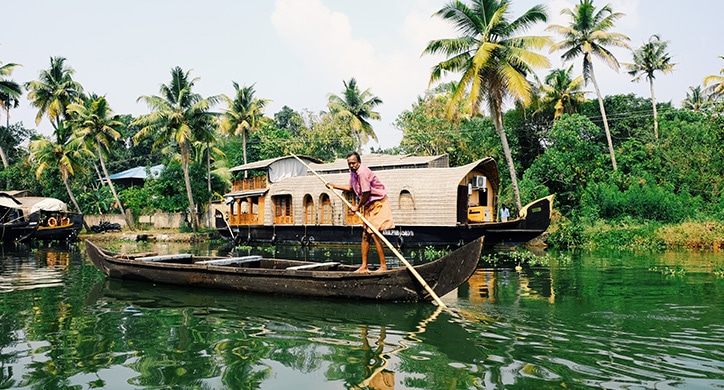 The Essentials - India and Sri Lanka
Customs, dietary habits, basic vocabulary... Here is some useful information to prepare you for a trip to India or Sri Lanka!
Read more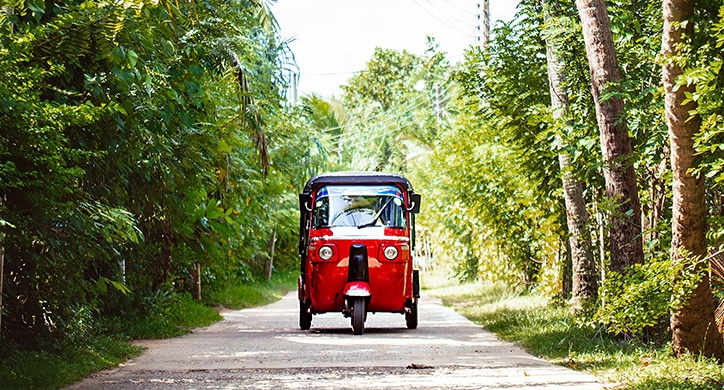 Must-Sees - India and Sri Lanka
Although Sri Lanka is often considered to be neighbouring India's "teardrop", it is an Indian Ocean gem promising much tranquillity. As for its neighbour, India is best explored through authentic and exotic experiences. Taking in India from the west to the east coast is always a delight.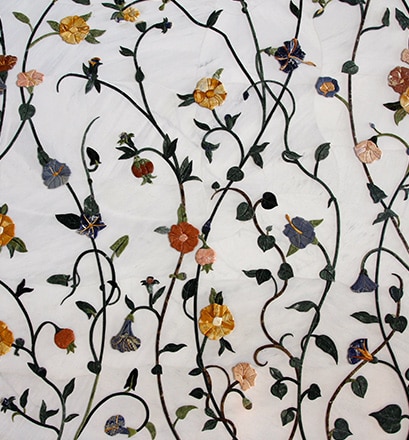 Be charmed by the Taj Mahal, Agra - India
With its beautifully refined Mughal architecture and clever blend of Iranian, Islamic, Ottoman and Indian influences, the Taj Mahal is simply unmissable if you are visiting India. This mausoleum considered one of the Seven Wonders of the World and classed as a UNESCO World Heritage Site is a monument to love: a homage by Emperor Shah Jahan to his dead consort, Mumtaz Mahal. Constructed in 1648, it is a like a beautifully carved jewel reigning over the surrounding perfectly manicured lawns. The sight is almost surreal.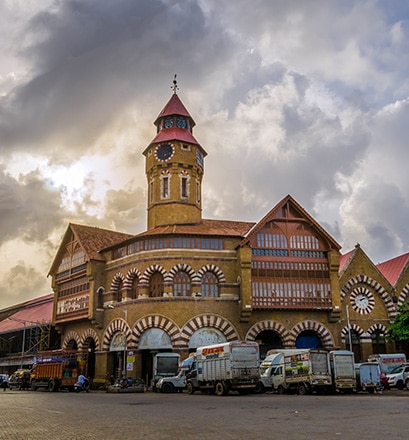 Explore the markets of Mumbai, Maharashtra - India
There is no better way to gauge a city's pulse than to wander around its markets, and Mumbai boasts many. Go to the Chor Bazaar to discover a whole range of items: telephones, toasters, gramophones, suitcases, Super 8 cameras, porcelain, statues, shoes, dumbbells, musical instruments, wooden toys, jewellery... With everything from small household appliances to antiques, you could spend hours browsing the stalls looking for the perfect piece. Another market, another feel: Crawford Market is one of the city's most famous. It is held in a Victorian-style building and is where the fabric sellers gather: colour guaranteed. Finally, you will be surprised to come across delivery drivers transporting lunchboxes by bike or with a hand cart. These are the dabbawalas. Each day, 4,000 of them collect home-made little meals from over 100,000 kitchens in the city's suburbs and deliver them to offices. 200,000 lunchboxes are distributed this way daily! The tradition has been established for 125 years.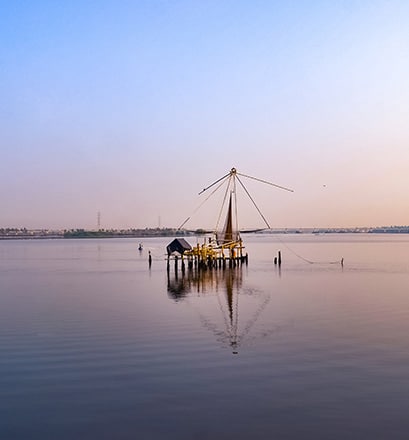 Come face to face with different civilisations in Kochi, Kerala - India
This is a city where the past is still shaping its many faces. Kochi, the main city in Kerala, is an unmissable stop if you're travelling the west coast of India. Visitors love the diverse cultural influences which can still be seen everywhere in the city today. The big nets by the water? Dipping nets introduced by the Chinese in the 13th century. Places of worship? There is the Paradesi Synagogue: the oldest still operating in the Commonwealth. You can also visit the Church of St Francis, which is deemed the oldest European church in India. The Phoenicians, Greeks, Arabs and Romans all passed through Kochi at various times back when it was already a major commercial port and the price of pepper was the same as that of gold. The Portuguese (Vasco da Gama landed here 500 years ago), the Dutch and the English also made their mark on the city. Colonial buildings and local cuisine still reflect this melting pot of influences today.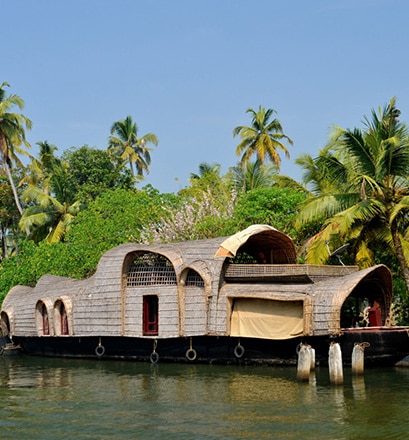 Sail through the backwaters of Alleppey, Kerala - India
The backwaters are a network of canals, rivers and lakes that link up coastal and inland areas to the south of Kochi to Allepey (also known as Alappuzha). Having served as transportation routes for goods and crops for centuries, the canals are now used for tourist river cruises lasting anything from a few hours to two days on board traditional kettuvallam crafts. These boats are made from natural materials like bamboo and coconut timber and their on-board equipment is solar-powered. Sailing through this tropical scenery made up of vast expanses of rice fields and lush vegetation adds to India's general sense of exoticism. As you go along, this feeling will only increase as you pass villagers doing their washing, buffalo drinking...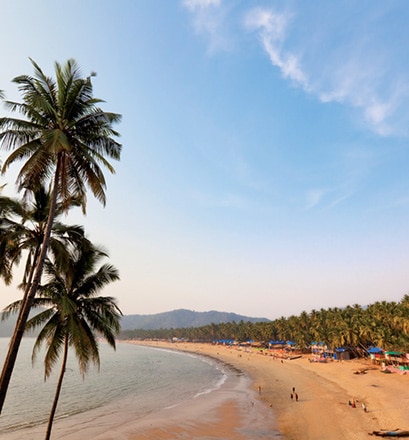 Get away from it all in Goa with cultural influences and idyllic beaches - India
A Portuguese colony until 1961, Goa has its own special history that is especially reflected in its cultural heritage. The Basilica of Bom Jesus (home to the tomb of St Francis Xavier), Se Cathedral, St Cajetan Church, Our Lady of the Immaculate Conception Church and St Augustine's Tower are all architectural gems dating from the 16th century and are particularly well-preserved. Goa's convents and churches are a UNESCO World Heritage Site. Yet, Goa is also known for relaxation thanks to this little state's superb beaches that cover 100 kilometres of coastline. Among them, Palolem Beach and Fatrade Beach are especially worth a detour with their white sands that seem to melt into the Arabian Sea.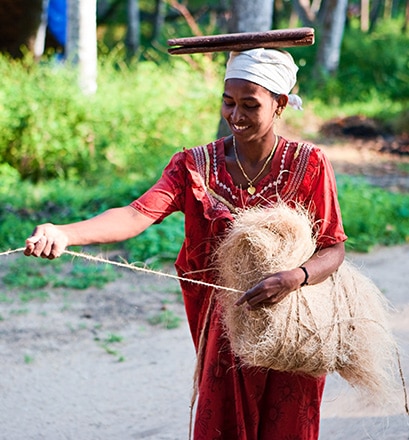 Learn about local life in Vaikom, Kerala - India
Off the beaten track, Vaikom is a peaceful little place that provides the chance for an authentic Kerala experience. It's also one of the oldest villages in the region. Surrounded by the famous backwaters, it offers a realistic glimpse of local life in this southern part of India. When visiting Vaikom, travellers are given a traditional welcome; can chat to families and visit their homes. It's also fascinating to see them as they do their daily jobs like the village potter making and decorating clay pots and vases, coconut fibre made from dried coconut husks being bound into rope, and mats being woven with red pineapple leaves.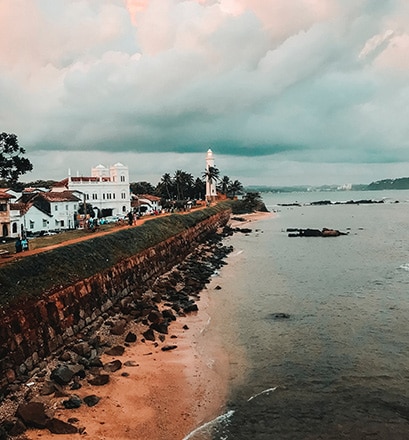 Walk around Galle, a former colonial port - Sri Lanka
Today, Galle is a lovely seaside city. Its lighthouse, ramparts and historic centre with little white-walled alleys make it peaceful haven. You could almost forget that the city used to be the country's main port when the Portuguese established their trading post here and started building fortifications at the start of the 16th century. With the arrival of the Dutch in 1640, the city grew again, becoming an unmissable stop on the spice and gemstone route. In 1815, the British seized Ceylon and re-established the heart of power in Colombo. A far cry from its former hustle and bustle, and now a UNESCO World Heritage Site, Galle still reflects its colonial past - something that delights visitors.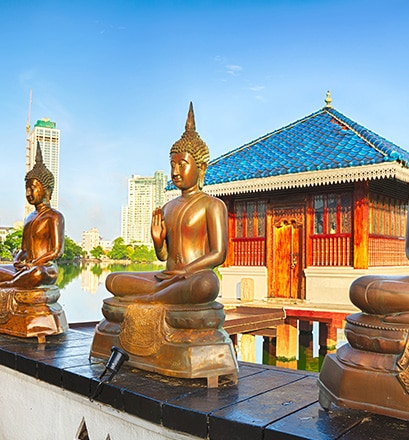 Immerse yourself in bustling Colombo - Sri Lanka
Colombo reflects all the religions and cultures that have been mingling here for centuries. Buddhist and Hindu temples, churches, mosques and monuments from the colonial period can all be found here in the country's economic capital. Don't miss Gangaramaya Temple, built at the end of the 19th century, in the middle of Beira Lake. A place of worship attended by many Buddhists, the temple also attracts curious visitors who come to admire the various objects, offerings that have accumulated over time, Buddha and lion statues, and golden decoration. In the middle of the temple stands the important hundred-year old Bodhi Tree: Buddha is said to have achieved enlightenment (bodhi) under a tree like this.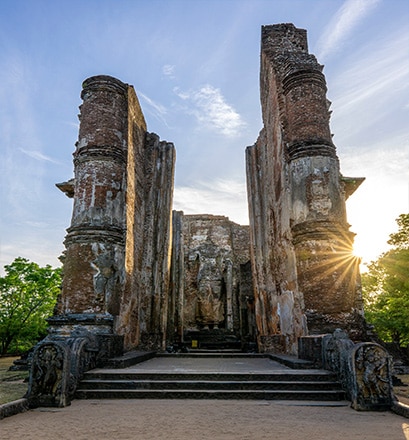 Visit archaeological sites - Sri Lanka
Sri Lanka has no fewer than eight UNESCO World Heritage Sites. Among them, Dambulla, Pollonnaruwa and Sigiriya in the heart of the Sri Lankan cultural triangle reflect the country's history and the fates of its kings. The Dambulla Golden Temple, with its gold Buddha and 80 painted caves covering 2,000 m², was used as a refuge by Raja Vaṭṭagāmaṇī Abhaya in 104BC. Formerly the Sri Lankan capital in the 11th century, Pollonnaruwa has a succession of priceless archaeological remains, including major temples, and represents the extraordinary way in which Buddhism spread through the country. Located 180 metres up on Lion Rock, Sigiriya was King Kashyapa's withdrawal capital at the end of the 5th century. The climb and the treasures concealed in the different cavities are exceptional.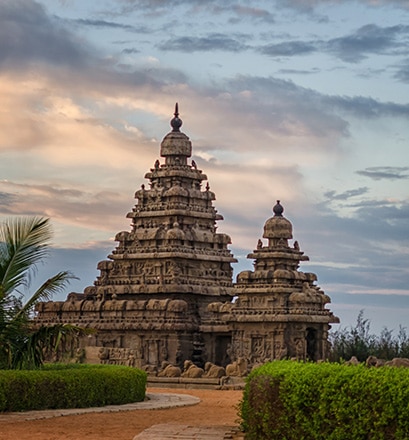 Chennai, Tamil Nadu - India
The birthplace of South Indian music and gastronomy, Chennai has developed a lively arts scene alongside its spectacular places of worship. The Mahabalipuram sanctuaries containing thousands of 7th- and 8th-century statues are a UNESCO World Heritage Site. The Shore Temple, an imposing granite building towering over the Bay of Bengal and built in honour of Shiva, is equally impressive.
The Essentials - India and Sri Lanka
Customs, dietary habits, basic vocabulary... Here is some useful information to prepare you for a trip to India or Sri Lanka!

Top tips
Dos. Eating with your fingers is common in India and Sri Lanka. However, only the right hand is used as the left hand is seen as unclean.
Don'ts. Touching monks is forbidden and women are judged more harshly for it. Before taking photos, it's best to ask permission. Taking images of or turning your back on a Buddha are considered disrespectful.

Unique features
While in Western countries meal home delivery services are booming, a similar system has existed for 125 years in Mumbai, India. These are known as dabbawalas: experienced delivery people who safely carry city workers' lunches. Each day, they collect lunchboxes from 200,000 clients, filling them with home-made dishes to take them to their owners on time. The whole system is based on trust and works well: in one year, just 400 late and missing deliveries were recorded.

Essential phrases in India
The Indian Constitution recognises 23 official languages. Here are a few words of Hindi, which is understood throughout the country.
Hello / Good evening: Namaste
Goodbye: Alvida
Welcome: Swagat
Excuse me: Mujhe maaf kar do
Thank you: Dhanyabad / Sukriya
Yes / No: Han / Nahi
How are you?: Aap kaise hai?
Very well: Achha / Tik hai
My name is…: Mera name … hai
Essential phrases in Sri Lanka
Sri Lanka has three official languages: English, Sinhala and Tamil. Here are a few key phrases in the latter two.
| | | |
| --- | --- | --- |
| English | Sinhala | Tamil |
| Hello | Ayubowan | Vanakkam |
| Goodbye | Gihin Ennam | Poittu vanga/Poittu varan |
| Sorry | Sama wenna | Ennai mannikkavum |
| Thank you | Istuh-ti | Nandri |
| Yes / No | Ow / Ne | Om - ama / Illai |
| How are you? | Oya hohinda/Oya saneependa? | Eppadi sukam/Sukama? |
| Good | Hondai | Nalam (fine) / Nallam (good) |
| My name is... | Mage nama... | Ennudaya peyar... |

Gastronomy
Sri Lanka's national dish, rice & curry contains a variety of mixes with garlic and spices, served in ramekins. Dal (lentil puree), ladies fingers (okra: a kind of ribbed, gelatinous green bean), sweet potato, Gee Cola (onions, grated coconut, chilli, lemon, salt), beans in sauce, banana blossom, poppadoms (little crisp fried flatbreads), freshly grated coconut and mango chutney accompanied by beef, chicken, fish or tofu make up this tasty dish which is served at any time of day.
In the south of India, especially the Mumbai region, Pav Bhaji is among the dishes eaten "on the go". This is a bowl of vegetables (cauliflower, carrot, potato, pepper, peas...) stewed for a long time in a spicy sauce (fresh coriander, cumin, curry, turmeric, garlic, onion, cloves, cinnamon, red chilli) and accompanied by a little brioche.

In the spotlight
2019 marked 150 years since Gandhi's birth: an occasion to highlight the khadi fabric of which the Kochi region in India is proud. Rather than simply being a cotton, silk or wool fabric, it symbolises the philosophy of the leader of the non-violent fight against colonisation. Mahatma Gandhi convinced his compatriots to wear the khadi, which was handwoven in local villages using Indian raw materials, rather than buy the expensive clothes sold by the British.

Culture
Books. The Village in the Jungle (1913) by Leonard Woolf stands out among the works written during the British colonial era as the perspective is that of a local rather than a colonist. We discover the hard life lived by Silindu and his two daughters in an isolated village in the Sri Lankan jungle as they struggle to survive in the face of bad luck and human greed.
Music. Sri Lankan cellist Rohan de Saram is famous worldwide for his interpretations of classical and contemporary works from the East and West.
Film. The winner of a Cannes Palme d'Or in 2015, Dheepan directed by Jacques Audiard takes the audience in the footsteps of a Tamil Tiger fleeing Sri Lanka to seek asylum in France. Alongside the violence of civil war combat, the film evokes that of certain Paris suburbs.
Covering 3,702 km2, Goa is the smallest Indian state. This former Portuguese colony was annexed by India in 1961.