Must-Sees - Madagascar
Lunar landscapes and extraordinary geology, fantastic beaches, roads bordered by baobabs... Madagascar has plenty of surprises around every corner.
Read more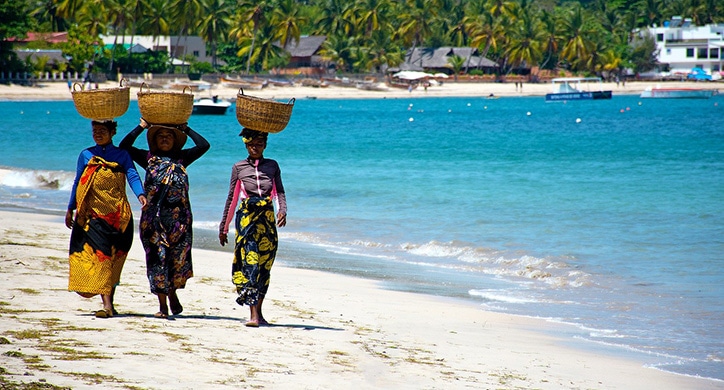 The Essentials - Madagascar
As well as superb beaches, Madagascar has fragile natural surroundings, a strong culture and an exciting history. Here are a few hints to help you familiarise yourself with this ever-fascinating and sometimes-puzzling destination.
Read more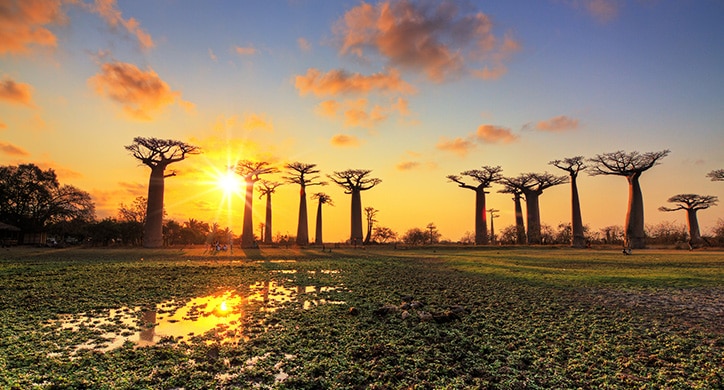 Must-Sees - Madagascar
Lunar landscapes and extraordinary geology, fantastic beaches, roads bordered by baobabs... Madagascar has plenty of surprises around every corner.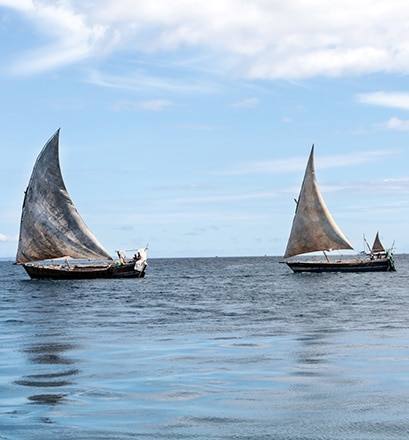 Be charmed by the island of Nosy Komba
Less well-known than neighbouring Nosy Be, Nosy Komba is an unspoilt gem. This small volcanic island off the north tip of Madagascar retains its authentic charm and is the scene for a breathtaking performance from Mother Nature. Those that venture here enjoy the emerald waters, tranquil beaches, traditional fishing villages and forests that are home to adorable black lemurs. On Nosy Komba, as throughout Madagascar, the roads are simple tracks. There are no cars or electricity: nothing disturbs the peace and quiet.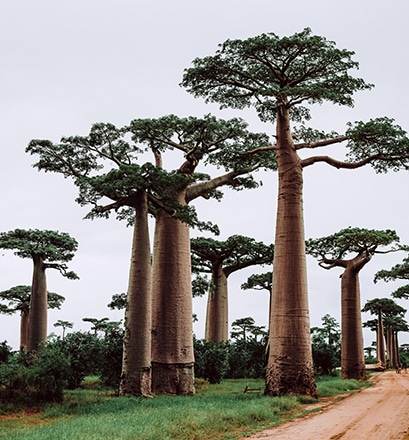 Go to a dizzying forest!
Near Morondava, a coastal town in the west of Madagascar, are some of the most beautiful specimens of the island's iconic trees. In the middle of the scrubland, the surprising baobab forest contains over 1,200 of these monsters that can reach 30 metres in height and 10 metres in diameter. The highlight: Avenue of the Baobabs. The rough ochre pathway almost seems to be in dialogue with the enormous smooth brown trunks either side. The high-up leaves contrast with the blue of the sky. Simply look up to be amazed by the dizzying height and beauty of the panorama before you.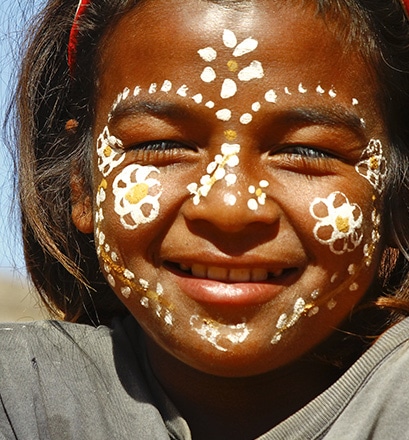 Be soothed by the magical sacred lake of Mangatsa
The sacred lake of Mangatsa is a peaceful haven far from any hustle or bustle. Its transparent water has something of the dreamlike about it and lets you see the carp and eels swimming safely below the surface. There is no fishing here: the Sakalava tribe believe these fish to be carrying the souls of dead kings. The zebu skulls and red and white material attached to the branches and trunks of the weeping willows bordering the lake only add to the sacred ambiance. Legend has it that Mangatsa was a village before it was turned into a lake by a banished sorcerer. Stop off at a Sakalava village to learn more about the customs and lifestyle of this famous Madagascan tribe.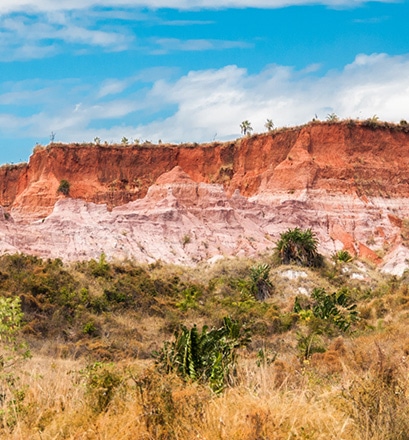 Admire the Cirque Rouge of Majunga
For 1.8 million years, erosion has shaped the lunar landscapes of the Cirque Rouge, about an hour's drive from Majunga. The sandstone panorama extends over 40 hectares in shades from green to pink, yellow, orange and blood red. Hoodoos, cliffs, peaks and petrified wood combine to create some unusual views.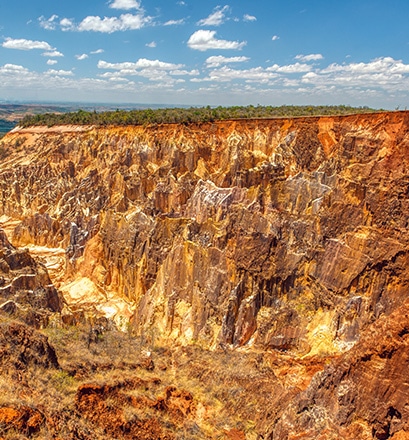 Discover native fauna at Ankarafantsika National Park
Ankarafantsika National Park is one of the biggest national parks in Madagascar. Covering 1,350 km2, it is home to many species and unique biodiversity: 129 bird species including 75 natives. One of them, the Madagascan fish eagle, is endangered. You can also see various lemurs including the mouse lemur: the small primate in the world. The park's craggy landscape is interesting too, with lavakas (huge holes on the hillside), lakes and forests.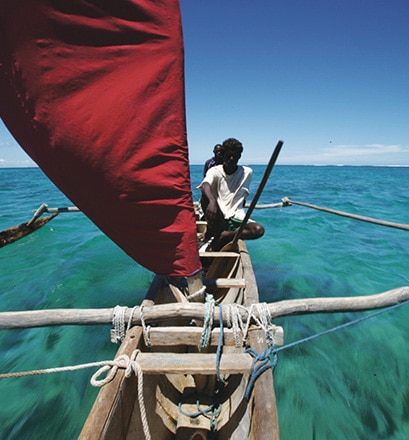 Meet "sea nomads"
Coloured pirogues line up next to each other. To reach the Betania Peninsula, you need to climb on board one of these fragile boats. And the journey begins. You cross the mangrove area on a maze of water, surrounded by endless birds including herons, egrets and kingfishers. Once in Betania, you can see tranquil village life for yourself. This is the home of the Vezo: the only nomadic people in Madagascar. Vezo means "sea nomads". While some make dhows (traditional iconic Indian Ocean boats), others take care of daily life in timeless scenes that visitors will never forget.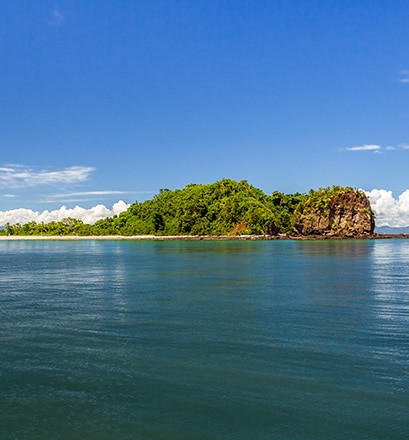 Appreciate a more relaxed way of life on Nosy Tanikely
An idyllic little island to the west of Nosy Komba, Nosy Tanikely ("the little land island") has everything to delight tourists. Since 2010, it has been a coastal and marine protected area, which makes it ideal for swimming and diving. Barracudas, bluespotted stingrays, swordfish, leopard sharks... Marine animal lovers are always happy here. The superb beach and crystal-clear waters also make the island an ideal stop for those who like relaxing with their toes in the water. Hiking enthusiasts will be content if they take the little path leading up to the lighthouse built at the start of the 20th century at the highest point on the island.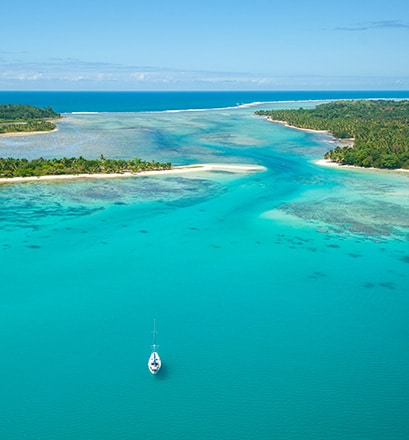 Visit paradise, Nosy Boraha and Nosy Nato
Truly get away from it all. You're in paradise. Nosy Boraha and Nosy Nato are famous for their stunningly beautiful coves, deserted white-sand beaches and palms caressing clear waters... Certified divers will enjoy exploring the seabed with its many fish including damselfish, trumpetfish, clownfish, sea cucumbers, butterflyfish, turtles, crocodile fish, jacks, barracudas... On Nosy Boraha, the inland area has a few big surprises, contributing to the feeling that you're in the Garden of Eden. Lush vegetation, waterfalls and natural pools make this a spectacular retreat.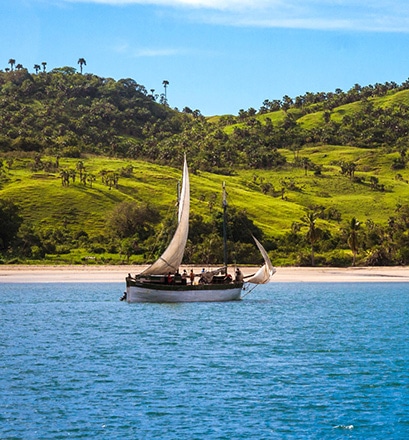 Dive off Nosy Mitsio
70 km to the north-east of Nosy Be, there are several inhabited islands in the middle of the Indian Ocean. The biggest, Mitsio, is particularly impressive with its perfect beaches, emerald waters and lush vegetation with baobabs and orchids growing haphazardly everywhere. This calm island is conducive to the deepest sense of tranquillity, with the only entertainment a few fishermen. On Mitsio's southern side, you can see the island's basalt columns that look like organ pipes several tens of metres tall... Impressive.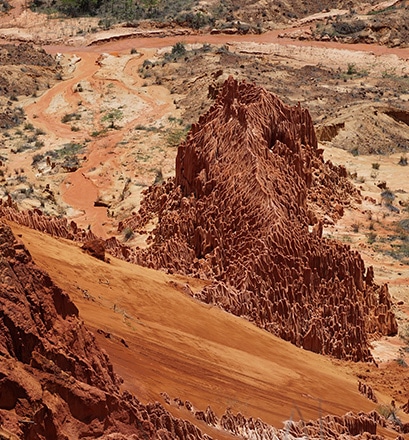 Red alert
A river loaded with rust-coloured mud at the bottom of a canyon itself displaying coppery tones from vermilion to tangerine. Peaks sharpened by the wind, rain and sun transforming this burnt land. Expanses of tan-coloured earth. Here and there, a few touches of green in the form of spiky trees contrast with this decor dominated by warm shades. Welcome to Tsingy Rouge Park and its stunning panoramas. .
The Essentials - Madagascar
As well as superb beaches, Madagascar has fragile natural surroundings, a strong culture and an exciting history. Here are a few hints to help you familiarise yourself with this ever-fascinating and sometimes-puzzling destination.

Top tips
Dos. Taking your time is key in Madagascar. One of the favourite expressions here is mora-mora ("gently").
It's not normal to use informal language with someone you've just met, except if they encourage you to do so.
Don'ts. Never badmouth ancestors or the elderly, who are extremely well-respected. The country is also governed by fady prohibitions and taboos. The issue? There are so many of them and they vary by region and even by village. Fortunately, the guides will be sure to remind you of them.

Unique features
How did lemurs arrive on Madagascar? There are two hypotheses about the island's iconic primates. One thing is certain: they came from the African continent. Some scientists say the ancestors of these lemurs crossed the Mozambique Channel at a time (several tens of million years ago) when the land wasn't underwater. Others believe they came to Madagascar 20 million years ago after a hurricane, using tree trunks and broken branches as rafts.

Essential phrases
Hello / Good evening: Salama
Goodbye: Veloma
Welcome: Tonga soa
Thank you: Misaotra
Yes / No: Ia / Ah-ah
How are you?: Manao ahoana ianao?
Very well, thank you, and you?: Tsara fa misaotra, ary ianao?
My name is…: ... no anarako

Gastronomy
Rice is the dietary staple here. There are more than ten varieties which are eaten in the morning, at lunchtime and in the evening. The Madagascans eat an average of 128 kg of rice per person per year. Even when consumed with other foods, it's never considered a side, but rather the cornerstone of the dish. It goes well with ravitoto: a typical speciality cooked with pork and pounded cassava leaves baked in garlic.

Myths & legends
Some people use the Big Bad Wolf to stop children behaving badly and going outside on their own. The Madagascans have Trimobe: a child-eating ogre who lives in lavish surroundings in the middle of the forest and whose favourite phrase is "Smells like human".

In the spotlight
The Reniala NGO fights to protect Madagascar's lemurs from hunting and captivity. A native primate iconic of the "Great Island", lemurs are now classed as endangered on the International Union for Conservation of Nature's Red List. Yet, lemurs are known as the "gardeners of Madagascar" and help develop the country's forests, including the famous baobabs, by spreading seeds. To protect this unique environment, the NGO has launched the "Buy a baobab, save a lemur" campaign offering donors the chance to symbolically own a giant tree. The money raised goes to caring for the lemurs who need it.

Culture
Books. In his autobiographical novel Revenir, Raharimanana recalls memories of a happy childhood and an intellectual father who was arrested and tortured. His own story interlinks with the wider picture of a stunning island beset by corruption, riots and lynching... A much-needed account.
Music. Since the 50s, Madagascar has been fertile ground for jazz musicians. Some have enjoyed an international career, performing in France and the USA. Among them are the Rabeson brothers, Georges and Serge Rahoerson, Andy Razaf, Arnaud Razafy, Alain Razafinohatra, Joël Rakotomamonjy, Arly Rajaobelina… Thanks to their talents and the groups they formed, they have contributed to the development of jazz in Madagascar and helped it across borders.
Film. At the end of World War Two, having fought Nazi Germany for France, the Madagascans hoped for independence. An armed revolt was gradually organised against the colonial forces and French in situ. Fahavalo is the name given to these "enemies". It's also the title of Marie-Clémence Andriamonta-Pes's 2017 documentary film which gives the floor to the last-remaining witnesses of this bloody uprising, interspersed with archive images. There were over 100,000 deaths. Not many people know about this part of history, which some consider the catalyst for independentist hopes in Africa's French colonies.
Of the 8 baobab species recorded worldwide, 6 are Madagascar's own. It's thought that some baobabs can live to the age of 1500, and reach 30 metres in height and 12 metres in diameter.