Must-Sees - Seychelles
How can you choose between the 115 islands in the Seychelles? Stunning natural sites, idyllic beaches, plenty of terrestrial and aquatic wildlife: some of the archipelago's hotspots are worth special attention. Here, we look at ten of these must-sees in more detail.
Read more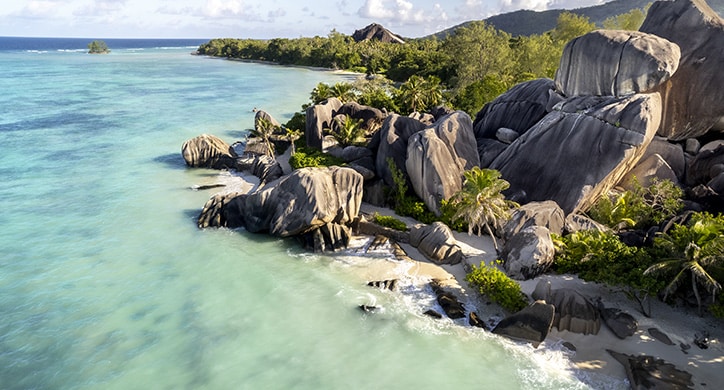 The Essentials - Seychelles
Culture, gastronomy, practical info... Here's a little summary for those travelling to the Seychelles.
Read more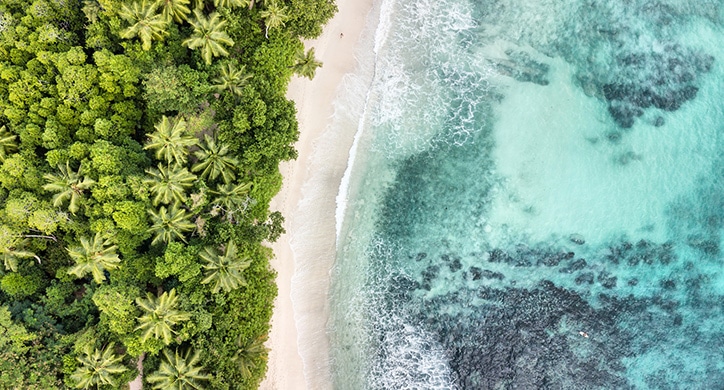 Must-Sees - Seychelles
How can you choose between the 115 islands in the Seychelles? Stunning natural sites, idyllic beaches, plenty of terrestrial and aquatic wildlife: some of the archipelago's hotspots are worth special attention. Here, we look at ten of these must-sees in more detail.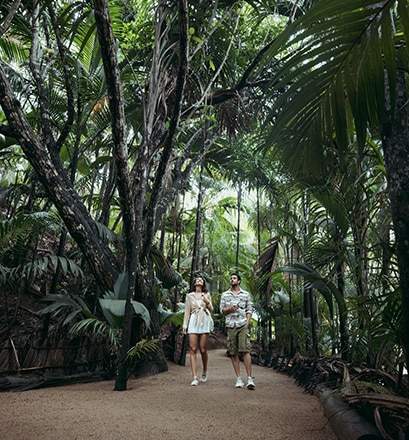 Walk around the Victoria Botanical Gardens - Mahé
Created in 1901, the Victoria Botanical Gardens on the outskirts of the Seychelles' capital contain much of the flora found in the archipelago. They make a good starting point for travellers arriving on Mahé. A shady walk along the park's marked paths takes you past many native species, like sea coconuts and other palm trees, orchids, fruit trees and flowers in all colours of the rainbow. The famous Aldabra giant tortoise, many bird species and the Seychelles fruit bat have lived for a long time in this peaceful haven: a microcosm of the Seychelles' diversity.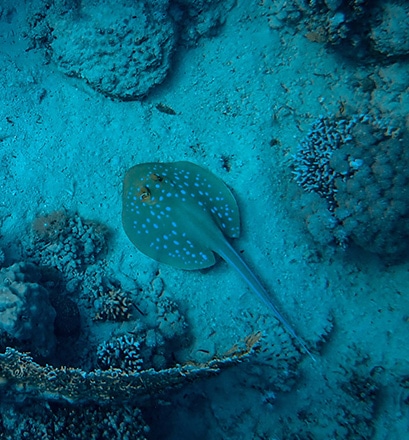 Dive in the Sainte Anne Marine National Park - Mahé
A few kilometres from the Mahé coastline, visiting the Sainte Anne Marine National Park feels like you're at the ends of the earth. Here you can enjoy over 150 fish species as you go scuba diving or snorkelling. Founded in 1973, this park contains five islands (Sainte-Anne, Longue, Ronde, Moyenne and Cerf) bordered by fine-sand beaches and surrounded by reefs with green sea turtles, angelfish with semicircle patterns and parrotfish. Bluespotted ribbontail rays, spotted eagle rays and manta rays are star attractions in this fish-filled area.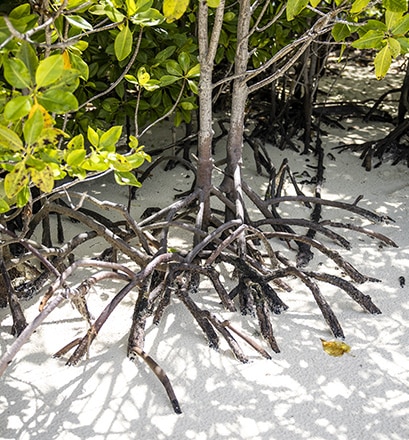 Explore a wild paradise - Curieuse
A marine national park since 1979, Curieuse island is a paradise on land and at sea. There are no homes, roads or activity here to disturb the flora and fauna. On land, the famous Aldabra giant tortoises walk around freely and gigantic sea coconuts - 3,600 trees - grow wild. The mangroves and granite beaches are ideal for walking and swimming away from the world's hustle and bustle. In the water, the many sea turtles are fascinating to watch.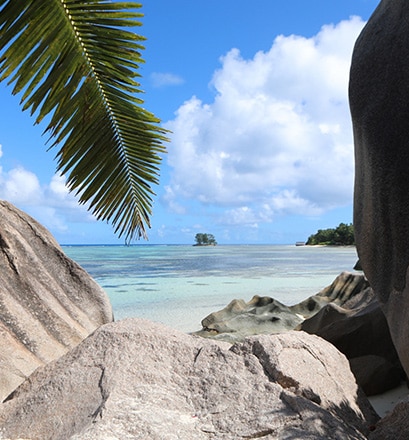 Enjoy the most beautiful island - Grande Sœur
Surrounded by white-sand beaches and granite and lush coastline, Grande Sœur island embodies the beautiful Seychelles we all imagine. The palm trees contrast with the azure sky and turquoise waters melt into the horizon. Grande Sœur is often considered the archipelago's most beautiful island: the one that has managed to retain its natural charm. Well-preserved coral reefs are home to many hawksbill sea turtles and hundreds of tropical fish like butterflyfish, angelfish, parrotfish and surgeonfish. Silvertip sharks sometimes come and roam around too. It's an incredible sight.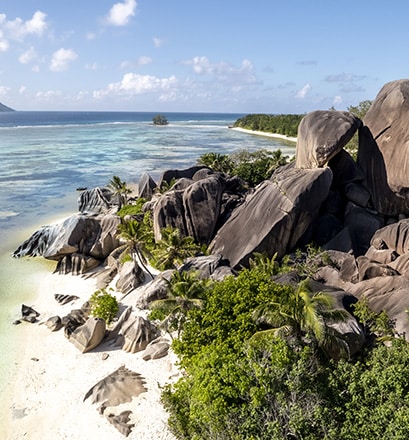 Get away from it all on land and in the water - Praslin
Praslin island is the perfect mix of everything the Seychelles has to offer. On the one hand, it has some of the most incredible beaches in the archipelago: white sands bathed with turquoise waters, lush vegetation and granite blocks dotted along the shore. On the other, you can find dense tropical forest and the Vallée de Mai: a UNESCO World Heritage site. There are paths that allow visitors to explore this protected area and see many palm species like sea coconut trees, the fruits of which can weigh up to 20 kg. Thanks to their suggestive shape, they are known as the "coco fesse" (bum nut) in French and are pretty notorious!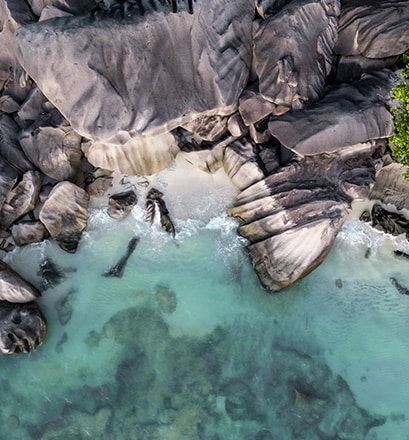 Bask on one of the world's most beautiful islands - La Digue
Another island, another set of picture-postcard landscapes. Covering barely 5 km2, La Digue offers a range of typical Seychelles panoramas. Granite blocks softened by erosion sit by the calm, crystalline sea, the golden sand sparkles in the sunshine, coconut palms provide welcome shade... Many of the archipelago's fantastic beaches have made it famous like Grande Anse, Petite Anse, Anse Cocos and Anse Source d'Argent, which is considered one of the most beautiful in the world.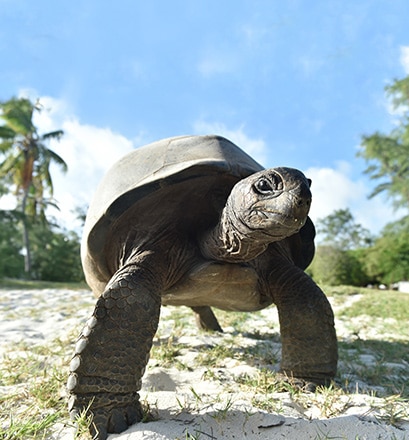 Spend a day with giant tortoises - Aldabra Atoll
One of the highlights of a trip to the Seychelles is certainly exploring the Aldabra Atoll in the south-west of the archipelago: considered one of the most unspoilt places on the planet. Because it doesn't have any drinking water, Aldabra has never been properly inhabited, which has preserved its stunning fauna. The atoll has the world's biggest population of giant tortoises, and is a unique nesting site for green sea turtles and a refuge for impressive bird colonies. This is a natural environment that leaves you speechless: a circular strip of land bordered by mangroves and beaches with transparent waters... This sanctuary has been a UNESCO World Heritage site since 1982.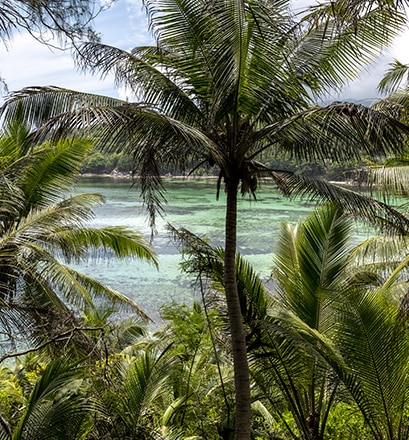 Visit the "bird capital" - Aride
One of the wildest islands in the Seychelles, Aride is famous for its cliffs and jungle, home to hundreds of birds. This nature reserve protected from human activity and only accessible at certain times of year sees many bird species flourish, like the Seychelles magpie-robin, tern and noddy, as well as reptiles and tortoises. This is a paradise for ornithology lovers.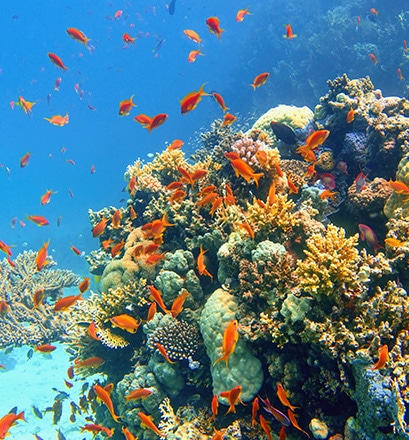 Dive to see the most beautiful coral - Alphonse
In the middle of the Seychelles, Alphonse island is mainly famous among diving enthusiasts for its coral - some of the most unspoilt in the Indian Ocean - and its diverse marine wildlife. Marine mammals, sea turtles, tropical fish, all kinds of coral, sumptuous slopes... The underwater spectacle is just as stunning as the one on land, where the beaches compete to be the most beautiful and the atoll creates an incredible internal lake.
The Essentials - Seychelles
Culture, gastronomy, practical info... Here's a little summary for those travelling to the Seychelles.

Top tips
Using informal language isn't disrespectful, but shows goodwill. Don't get annoyed if someone doesn't speak to you formally.

Unique features
The Aldabra giant tortoise found in the Seychelles can grow to an incredible size: males can reach 1.2 metres and weigh up to 300 kilos, while females measure 90 cm on average. Their longevity has also been studied as some have reached the age of 140 or more, giving them the title of world's oldest land animal. Jonathan the tortoise celebrated his 187th birthday in 2019. Meanwhile, on Bird Island, a tortoise called Esmeralda is thought to have been born in 1771.

Essential phrases
English is mostly used in the Seychelles for commerce and administration. However, Seychelles Creole (Seselwa), which has French roots, is the most common language.
Hello / Good evening: Bonzour / bonswar
Goodbye: Baybay
Welcome: Welcome
Excuse me / Please: Eskiz / silvouplé
Thank you: Mersi
Yes / No: Wi / non
How are you?: Ou byen?
Very well, thank you, and you?: Mon byen, gran mersi, oumenm?
My name is...: Mo appel

Gastronomy
In the Seychelles, the various types of fish (tuna, threadfin, barracuda...) are cooked all ways. However, kari coco is THE Seychelles speciality. This fish or chicken stew simmers for hours in a spicy sauce sweetened by coconut milk.

Myths & legends
His real name was Olivier Levasseur, but he is better known by his nickname: La Buse (The Buzzard). This old French privateer struck in the Caribbean and Indian Ocean in the 18th century, making an impact on pirate history. When he was hanged in 1729, he supposedly threw a mysterious cryptogram into the crowd, crying out: "Find my treasure he who can! ». Myth or reality? No loot has yet been found, but some people still have hope!
Escale link

In the spotlight
The Aldabra Clean-Up Project is an ambitious joint project between the University of Oxford and the Seychelles Island Foundation, aiming to clean up the beaches on the Aldabra Atoll. Although this unspoilt area isn't polluted by human activity, the shore is covered with rubbish that has been carried along by the tides. The waste is gathered by volunteers, sorted then taken to Mahé to be recycled. In February 2019, over five weeks, no fewer than four tonnes of rubbish were collected on the Aldabra Atoll: a UNESCO World Heritage Site since 1982.
Escale link

Culture
Books. Antoine Abel (1934-2004) is one of the archipelago's most iconic writers. A teacher of children then of students at the École Normale Supérieure des Seychelles, he wrote from the end of the 60s in French, English and Seychelles Creole, promoting the latter heavily. Poem collections, novellas, novels, theatre, stories, comics... His work is extensive and his narratives beautifully simple.
Music. Patrick Victor is from a family of musicians and was surrounded by traditional Seychelles music as a child. Growing up, he became one of its key ambassadors. Through his texts and music, he promotes Creole culture, as demonstrated by his first song in 1975, which mentions moutia: a dance done by slaves in the 19th century.
The Seychelles archipelago is made up of 115 islands and isles, with just 33 inhabited. 90% of the population live on the biggest island: Mahé.