After this necessary period of down time required to keep everyone safe, PONANT now has a range of travel experiences to offer designed to match your desires and expectations and the needs of a now transformed World. This Summer will be one of reunions with family and friends and of taking time for yourself to recharge your batteries.
PONANT is going back to the origins of its fabulous history and shining the spotlight on France, which is so beautiful seen from the sea. Next stop the Treasures of France's Wild Shores and the iconic islands of the French Coast! From the tip of Brittany to the far south of Corsica, explore the country's natural jewels and famous regions departing from Bordeaux, Saint-Malo, Marseille or Nice. Experience the sea just like on our expedition cruises and sail off the beaten track in the exclusive onboard decor and surroundings of our discreetly luxurious ships, ambassadors for the French Art of Living.
See the Cruises
The unprecedented public health crisis we have just been faced with has been managed in an exemplary manner by both our land-based teams and our crews. The speed and efficiency of our protocols and our state-of-the-art medical equipment together with the small size of our ships have made it possible to ensure everyone's safety and security. We have put in place more stringent health protection measures and maximised safety levels to guarantee you a completely calm and stress-free sailing experience.
Our Health Protection Measures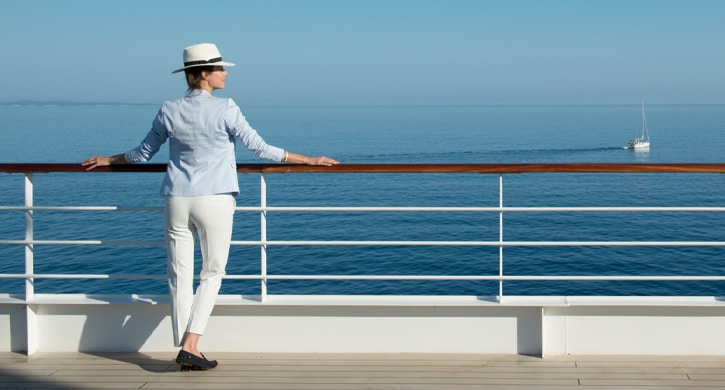 Sail with Confidence
Whether on land or onboard, your safety is one of our absolute and primary concerns. To ensure the provision and maintenance of a hermetic "COVID-SAFE" sanitary bubble, PONANT has introduced a more stringent set of health protection measures incorporating a complete range of technological, human and equipment based measures: three "shields" designed to guarantee drastic on-board access conditions, strict on-board sanitary protocols, daily control and monitoring (guests, equipment, ships).

COVID-SAFE zone access conditions
100% of guests and and crew members will be controlled prior to boarding and comply with the COVID-SAFE zone access protocol at time of boarding, which consists of a body temperature check and a disinfection tunnel for persons, personal effects and goods/merchandise, change of clothes upon arrival in the stateroom.

D-45
First health questionnaire to be completed by personal doctor.(1)


D-3
Mandatory PCR test(2)


BEFORE BOARDING
Passenger's handing over the second medical questionnaire "declaration of health" Medical examination by the PONANT medical team


BOARDING
Denied if test results are positive, 48hrs, having been in contact with Covid-19 cas less than 14 days, if temperature >38°C/100.4°F, or symptoms detected
(1) Except for cruises in France.
(2) Mandatory PCR test: do not travel if positive result or contact with Covid-19 case less than 14 days. Medical prescription send by PONANT to implement the test.

Maintenance of the COVID-SAFE zone
All persons onboard (guests and crew members) are required to comply with the mandatory health protocol, and all our onboard spaces are regularly cleaned and treated to ensure total disinfection. To preserve and maintain this sanitary bubble, shore/land excursions will only take place in regions where the epidemic is under control, or in uninhabited areas where there will not be any contact with local populations.

DISINFECTION
luggage and goods/merchandise

GUESTS
Gel and mask provided at boarding to wear when moving on the ship

CLEANING
public spaces and cabins and continuous air replenishment

BARRIER GESTURES
and social distancing**

CREW MEMBERS
wearing of obligatory masks or visors

ISOLATION ZONE
5 cabins available if required
**according to the social distancing recommended in the WHO guidelines

Land trips/visits
Landing craft will be disinfected and passengers will be required to comply with a range of more stringent health protection instructions: social distancing, mask wearing, barrier procedures, temperature checks before returning onboard, and passage through the disinfection tunnel (individuals and personal belongings).

Checking and monitoring of the COVID-SAFE zone
To ensure we can provide you with a COVID-SAFE zone throughout your voyage, we have designed and developed a fully-fledged checking and monitoring system with respect to the health protection situation onboard our ships.

MEDICAL TEAM
Doctor and nurse onboard

ON-BOARD HOSPITAL
Daily monitoring and rapid diagnosis

TESTING AND SAMPLING
Carried out regularly in high-risk areas and on high-risk surfaces

MONITORING AND CHECKING
of both guests and the ship itself
The French flag and PONANT's exemplary standards
Topping the Paris MoU (Memorandum of Understanding) World flag rankings in 2013 & 2014, the French flag is considered the safest in the world. PONANT is the only cruise operator to fly it, providing a measure of the quality the company offers in terms of environmental standards, the safety of its ships and employment law. The fleet is checked and monitored by the Marseille based Centre de Sécurité des Navires PACA Corse and the CSN Normandy based in Caen. The safety and security equipment is annually checked and approved by the French government and French testing and inspection company Bureau Veritas. Each ship is ISM (international Safety Management) certified, which requires compliance with a set of very strict international rules and regulations.
Uniquely original cruises departing from 4 ports in France
Next stop the magnificent natural spaces and quintessentially authentic landscapes and scenery of France's Coastline and wild, unspoiled islands! From Saint-Malo to the coves and inlets of Corsica (the "Isle of Beauty") and from the Atlantic Coast and the islands of Brittany to the golden shores of the Mediterranean, rediscover the riches of an exceptional natural heritage and enjoy a gently relaxing break away from it all at the heart of one of the World's most beautiful and inspiring destinations, with departures available from four French cities: Bordeaux, Saint-Malo, Marseille and Nice.
Discover our Four Itineraries
Uniquely original cruises departing from all around France
Lovers of nature and unique getaways to wild coasts will explore the extraordinary and little-visited shores of France's most beautiful islands and discover a range of prestigious landscapes over the course of a series of uniquely original itineraries departing from four major French ports: Bordeaux, Saint-Malo, Marseille and Nice.
From Bordeaux: Nature and terroir of Nouvelle-Aquitaine

Endless horizons, beaches and dunes extending as far as the eye can see, charming insular landscapes dotted with little white, flower-adorned houses, and fishermen's huts on stilts… Often wild and untamed in places, and battered by the winds but protected by the mildness of the ocean, the Atlantic Coast, a raw and at the same time soothing natural environment offer the flavour of far away places and a fragrance of large open spaces.
You'll love to:
Contemplate the sight of Cordouan Lighthouse, a royal tower and engineering masterpiece that has been standing watch over the Gironde Estuary for over 400 years!
Sail by the church of Talmont-sur-Gironde, the astonishing troglodyte caves of the Cliffs of Meschers, and the famous carrelets, the fishermen's huts on stilts that line the shores of the estuary
Breathe in the iodised air of the Ile d'Aix and the Ile de Ré, paradise for birdwatchers
Tackle the challenge of the famous Fort Boyard
Explore the wild trails and white sandy beaches of Ile de Houëdic
Savour the treasures of an exceptional terroir
Our departures from Bordeaux
Spotlight on…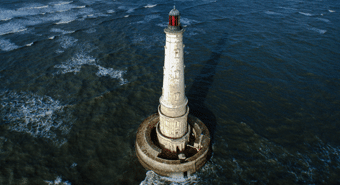 Continuously manned for centuries, open to the public and now the world's only open-sea lighthouse still operating, Cordouan Lighthouse stands imposingly silhouetted against the sky at the mouth of the Gironde Estuary. An architectural and engineering masterpiece acting as an intermediary between land and sea, this royal tower has been protected as a historic monument since 1862!
From Saint-Malo: Brittany, between wild coasts and lighthouses

Stretching from the North of Brittany to its South, the wonderful Iles du Ponant stand before you in all their beauty: an homage to the islands that inspired our company's name 30 years ago, and which evoke the most beautiful of Celtic legends, incredible sailors' yarns, and an exceptional range of biodiversity.
You'll love to:
Sail towards the wild, untamed shores of Bréhat Island, famous for its lush Mediterranean-scented vegetation
Tread the white sand of the immaculate beaches of the Glénan Archipelago and sail through the glinting, tropical-like turquoise waters
Explore the wild trails and fine sandy beaches of the little islands of Quiberon Bay and the Gulf of Morbihan
Breathe in the perfumes of the heather, gorse and broom-dotted heaths of Belle-Île-en-Mer
Discover the legendary steep craggy cliffs of the Crozon Peninsula at the heart of the Iroise Sea UNESCO biosphere reserve
Our departures from Saint-Malo
Spotlight on...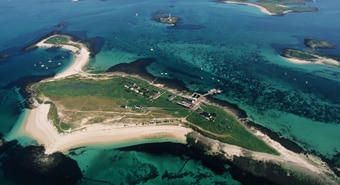 To disembark at Glénan, an uninhabited archipelago accessible only in Summer, is to set foot on a little piece of heaven on earth: white sandy beaches, clear, glimmering turquoise waters… An enchanting site for all lovers of the sea.
From Marseille: The heritage of the Mediterranean coast

Sailing to some of the Côte d'Azur's best kept secrets, sheltered sites accessible only from the sea. Peacefully and quietly enjoying the sensual sun-drenched nature of the Mediterranean from the sea as it unveils itself in all its finest glory. The bounty and abundance of its cuisine and natural heritage makes it a destination of choice for savouring the pleasures of the sea and the dolce vita.
You'll love to:
Wander around the salt marshes of the Camargue nature reserve and se the iconic pink flamingoes
Sail by the Calanques National Park, the coast of Esterel with their endlessly varying shades of ochre
Discover the secret and lesser known shores of the very chic and stylish Saint-Tropez peninsula
Reach Corsica, its hidden coves and its beaches with turquoise waters
Explore the ledge of the Moors, this peaceful locality of Provence which offers a rich and typically Mediterranean vegetation
Our departures from Marseille
From Nice: Wild and secret Corsica

A sensation of a distant place, yet so close! Corsica and the beautiful wild and sheltered parts of its coast offer unlimited opportunities for exploration from Cap Corse to the Strait of Bonifacio and the islands of the Sanguinaires Archipelago, discover an extraordinary range of natural heritage.
You'll love to:
See and experiene the well-preserved and unspoiled nature and local environment
Bath in the turquoise waters of the large sheltered bays and small isolated beaches
Walk along secluded shores bordered by tropically soft and gentle crystal-clear waters and scrubland that fills the air with its fragrance
Sail alongside the majestic cliffs of Bonifacio
Round the naturally cave lined Cape Pertusato at the very southern extreme of Corsica
Admire the end-of-the-world like landscapes and scenery, where time no longer seems to hold sway
Our departures from Nice
Spotlight on…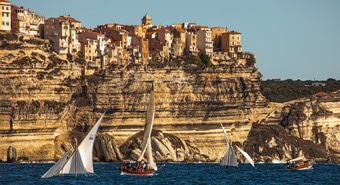 Seeing Bonifacio from the sea, with its citadel perched high atop dazzling white cliffs, is an extraordinary sailing experience. Explore the surrounding area and see the ancient sea caves with their myriad luminous turquoise reflections and the magnificent scenery of Cape Pertusato, the "rudder" of Corsica.
Help and assistance from start to finish
Because a successful voyage begins with a relaxed and worry free departure, we offer you the option of complete support and assistance: we can arrange a private transfer between your home and your port at both the start and end of your cruise if you require.
To make it easier for you to take consecutive cruises, we offer special preferential rates and simplified connections between Atlantic and Mediterranean ports, complete with the guarantee of retaining your cabin from one cruise to the next on the same ship.
To add the final touch to your stay with us, we also help and support you with booking pre- or post-cruise land based services.
For further information. please contact your travel consultant.
Request a call back
An enriched and high-quality onboard experience
Contemplation and exploration, cultural heritage and wellness, Zodiac© excursions and kayak trips, magical moments on the exterior deck and talks with our experts and special guests, disembarkations on deserted islands and the local flavours of our lands and regions: we invite you to live and experience exceptional moments and share together the passion for the sea that drives and inspires us.
Discover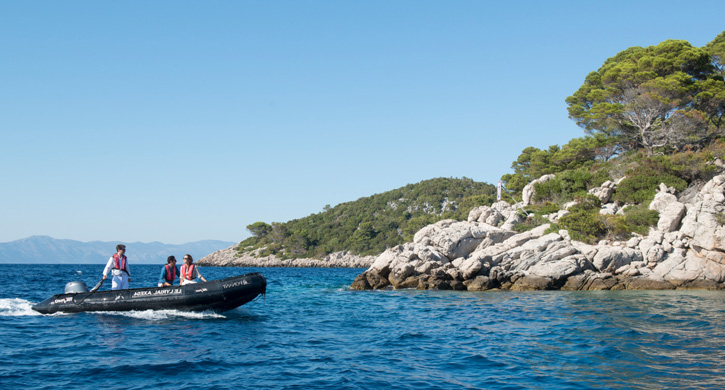 An enriched and high-quality onboard experience
To sail to preserved, unspoiled areas accessible only from the sea is to become conscious of both the incredible power of nature and its extreme fragility, and to form a connection with the essential: protection of the environment, the quintessential authenticity of the terroirs, the pleasure of sailing, and the sense of awe and wonder the sight of nature's treasures inspires. Discover the experiences and exclusive moments that will be available to you and through which you'll be able to completely re-energise and revitalise yourself amidst the scenery of inspiring natural sites, sublimely viewed and experienced from the decks of our luxury ships.
Onboard:
Instants of calm tranquillity at the spa or by the pool, keeping in shape in the fitness space, and moments of friendly conviviality at the Théatre or the Grand Salon: our all-inclusive cruises offer a range of special experiences adapted to suit all tastes. In addition to these activities, our teams have come up with a series of enriched and diverse onboard programmes for this Summer, designed to combine the pleasure of cruising with cultural, historical, scientific and gastronomic discovery and exploration.

Special guests, experts in their respective fields, who will share their insights and knowledge on specifically chosen themes. Amongst our travelling companions will be famous journalists, former ministers, historians and actors.

Opportunities to meet and chat with naturalist guides and guest speakers who share our passion for protecting the oceans and both natural and cultural heritage.

Food and drink tastings, cooking lessons to learn how to use the flavours and benefits of seasonal products to sublime effect, wine workshops and master-classes with renowned chefs.

Magical moments of conviviality and celebration on the exterior decks: pre-dinner aperitifs, sailing past iconic sites, swimming and bathing from the ship's marina...

High-quality artistic shows and performances, with the presence onboard of renowned and talented artists.

The Kid's Club
From July 4th to August 29th, the PONANT Kid's Club will be providing a range of activities for children 4 years and over led by an onboard team of activity coordinators. With a programme specially designed for your children, you'll be able to savour the magic of your destination in complete calm and tranquillity .
On the water:
You'll experience the sea as if you were on an expedition cruise. Zodiac trips® in small groups accompanied by our naturalist guides, giving you the chance to visit exceptionally secluded sites and experience the astonishing richness of wild, untamed coastlines and the wildlife that inhabits them. The pleasure of discovery will thus be accompanied by the thrill of adventure!
At certain ports of call, you'll also have the chance to go on paddle boarding or sea kayaking trips from your ship's marina, allowing you to gently and tranquilly approach close to the shores. For thrill seekers, there will be opportunities for water skiing!
On land:
When you get the opportunity to disembark at wild beaches or uninhabited shores, you'll be able to spend wonderful moments swimming and bathing, or hiking along coastal paths and trails accompanied by our naturalist guides. In these wild, unspoiled natural surroundings, they will share their knowledge and expertise with you and give you special insights into the local fauna and flora.
A floating bar, ad hoc barbecues, aperitifs on a sand bank: a range of unique and exclusive PONANT moments await you…
France have a range of fabulous treasures to offer. You will have the opportunity to discover and sample the delicious products of local terroirs at the actual places themselves, dependent on the particular possibilities available and compliance with the requirements of our health protection protocol.
Underwater:
On itineraries departing from Marseille and Nice, you'll be able to explore the wonderful seabed environments of the Mediterranean Coast via a snorkelling trip or a scuba diving session. The diversity of the Mediterranean seabed offers a multitude of opportunities to explore the wonders of the underwater flora and fauna: wrasse, groupers, sea bass, tuna, amberjack, gorgonian and red coral, sea bream, octopus, dusky grouper, sea grass beds (veritable nurseries for numerous species of fish)…
Accompanied by our experienced instructors, you will have the opportunity to take part in either a beginner's dive or a more advanced session (PADI Open Water Diver or equivalent).
Ships of Luxurious Intimacy
In keeping with our desire to offer you exceptional voyages in luxurious onboard surroundings, we have developed a range of reduced capacity ships able to access uniquely original and rarely visited ports of call. These ships ensure that each and every person is able to enjoy special privileged moments infused with a delicate flavour of exclusivity and feel as if they are on a private yacht. Equipped with the latest state-of-the-art technology, they guarantee the safety and security of our passengers and limit our impact on the environment.
Find Out More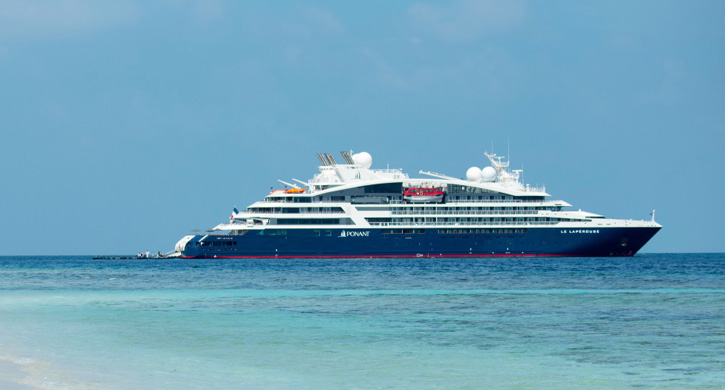 Ships of Luxurious Intimacy
In keeping with our desire to offer you exceptional voyages in luxurious onboard surroundings, we have developed a range of reduced capacity ships able to access uniquely original and little visited ports of call. These ships ensure each and every person is able to enjoy special privileged moments, imbued with a delicate flavour of exclusivity, and to feel as if they are on a private yacht. Equipped with the latest state-of-the-art technologies, they offer safety and security for our passengers and limit our impact on the environment.
Ships designed on a Human Scale
Our expedition yachts equipped with just 92 to 132 cabins and suites are fully in keeping with our philosophy: to voyage on modestly sized ships in a unique atmosphere combining respect for the environment with distinguished design and state-of-the-art technologies.
It's thanks to our reduced capacity ships that we are able to dock in little-known ports and offer you stopovers in wild, unspoiled places. The restricted number of passengers onboard enables each and every person to enjoy special privileged moments and feel like they are on a private yacht.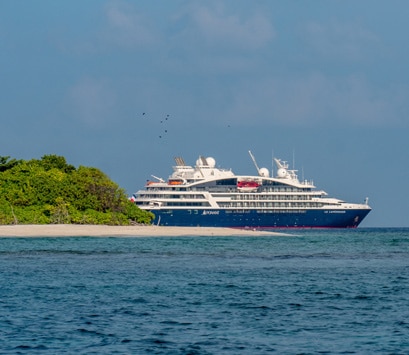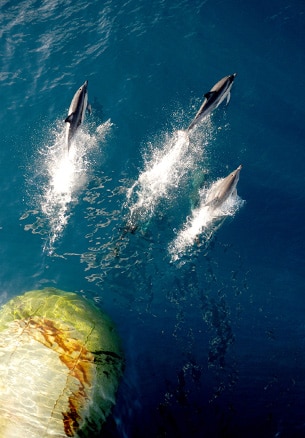 A modern and environmentally responsible fleet
Our fleet is one of the most modern in the World, with an exceptionally low average age of less than four years. Our ships are equipped with state-of-the-art technologies that ensure the safety and security of our passengers and limit our impact on the environment: a low-energy and low heat generating lighting system (LED and fibre optic based), a dynamic positioning system enabling the ship to be kept in a static position without the need to drop the anchor, thus respecting and preserving the seabed, and a Clean Ship certification.
Our Commitment to Sustainable Tourism

Zero Carbon Voyages
All CO2 emissions produced by our cruises are now 150% carbon offset. We achieve this by contributing to specific real-world projects:
Reforestation of the Amazon in the northern Brazilian state of Pará, with nearly 4 million trees now planted.
The production of energy from wind power in the western Indian state of Maharashtra, which offsets 29%
Photovoltaic energy production in several different regions of India.
These projects are certified by Verra Standards for a sustainable future, one of the two most recognised and respected certification systems in the world. In addition to tackling environmental issues, these projects also aim to provide responsible support to local communities by providing long-term employment in these areas and, in particular, by developing access to healthcare and education.
Design and the Art of Living
Innovative design; elegantly streamlined shape; refined interior decor; warm, friendly and intimate atmosphere: a subtle alliance of luxury, intimacy and well-being. Everything has been carefully designed to ensure a unique atmosphere onboard, a veritable personality: the chic style and naturally relaxed character of a genuine private yacht.
As the world's only French cruise line, PONANT spreads the "French Touch" and the excellence of French gastronomy wherever it goes: Ladurée macarons, Lenôtre breads and pastries, Veuve Clicquot champagne for gala evenings, discreet service, refined cuisine prepared in partnership with Ducasse Conseil, a menu put together by our talented chefs using local products carefully selected for their flavour and the quality of the methods used in their production.

Your dedicated phone line
For more information, please contact
our Information and Booking service on

+33 (0)4 91 16 16 27
(calls charged at the local rate)
Request a Call Back
Booking with Confidence
The situation we are currently living through is exceptional and unprecedented. To enable you to book your next voyage with complete confidence, we have introduced a range of exceptionally flexible, STRESS-FREE booking and cancellation conditions that allow you to cancel or postpone your voyage without charge.
The booking conditions specific to Summer 2020 departures
For each new booking for a cruise departing in 2020, you will only need to pay 10% of the total price of the cruise to confirm your booking, and you will not be required to pay the remainder until seven days before departure.
The special cancellation conditions applicable to Summer 2020 departures
Our special conditions allow you to cancel your booking without charge up to 72 hours before the cruise departure. We will offer you either:
a voucher for the total amount paid redeemable against any new booking made in the 24 months following the initial departure date.
or
a refund of the total amount paid.
The cancellation conditions above apply specifically to the cruise product/service. For the other services, particularly air travel, cancellation is subject to any charges levied by airlines
For all cancellations less than 72 hours before departure, cancellation charges will be applied if you require the amount paid refunded in full.
All cancellation requests must be submitted by email to: reservation@ponant.com
For cancellations/postponements on the part of PONANT: you will be able to choose between a voucher for the total amount paid or a refund.
Your callback request
Thank you for filling in this form.
Subject to final approvals

Information and Booking service

+33 (0)4 91 16 16 27
(calls charged at the local rate)
Being called back